The Education curriculum in schools talks about 3 R's – Reading, Writing, and Arithmetic. However, there are three more skills that can be gainfully imbibed at early stages of educational and personal development, mainly at secondary and higher secondary levels.
Three additions:
A course on "Effective Listening" – Children understand very quickly the meaning of keen listening and the same can be emphasized through dealing with differences between hearing and listening – hearing is the mechanical vibration of eardrums, which happens even in sleep; however listening is an acquired skill. If God had made us such that we listen during sleep, then sleep would not be possible. Understanding the barriers to listening is also important, and this will pave the way for better emotional intelligence as the children grow up. That brings me to the second skill, which is emotional intelligence.
A primer on "Emotional Intelligence" – Basic emotional literacy in recognizing emotions in the order of their severity can help children later on in life to navigate emotions for functional behaviors.
A 10 day ( once a week) program on "Public Speaking" – The third concomitant skill is speaking from the stage or public speaking in short. This will build a reservoir of confidence in children so that as they grow up and join organizations, they are adept at effective communication.

I have coined an acronym for the above as LEP; wherein L – Listening, E – Emotional Intelligence, and P – Public Speaking
Two things that need avoidance:
Too much reliance on multiple-choice questions (MCQs), which forces children to look for the right answer and avoid giving a wrong answer because of negative marking. This restricts creativity in looking out for multiple options and I find this feature very prevalent in dealing with management-level personnel. Life is all about creating or discovering options and choosing the best possible one under the given circumstances.
Another syndrome called 'Fold your hands and Fingers on your lips' – in junior classes, which disallows children from expressing themselves, becomes a hindrance in conference rooms later on. This is my view.
On the other hand, if children are freely allowed to express (short of making noise in the class), they will be able to articulate their views, when asked for, or on their own initiative in conference rooms and board rooms.
DISCLAIMER- THE VIEWS EXPRESSED ABOVE ARE THOSE OF THE AUTHOR–TAKEN FROM HIS EXPERIENCE AS AN ENGINEER TURNED BEHAVIORAL SCIENTIST WITH 40 PLUS YEARS OF WORKING IN SENIOR LEVELS IN 2 MNCs.
About the Author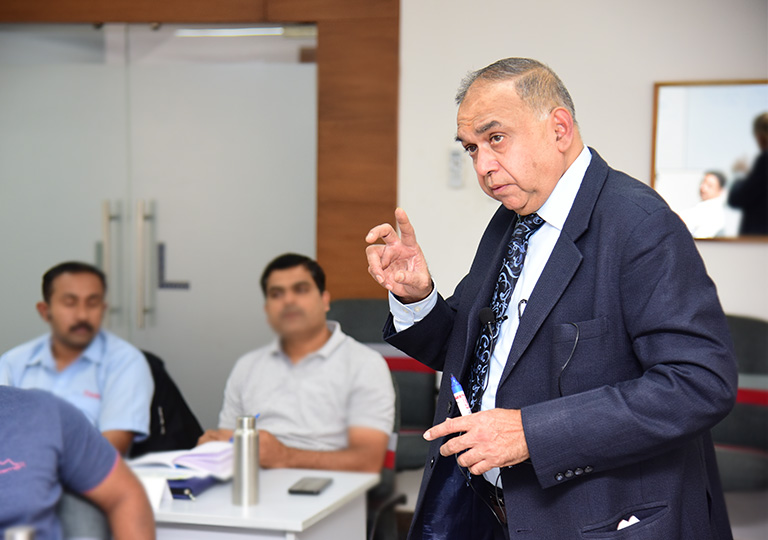 Dr. Krishnamurthy Iyer is a seasoned industrial engineer turned HR professional, with an established track record in change management, organizational diagnostics, and integration of HR processes with business strategies.
He possesses a versatile combination of human and industrial engineering skills with an experience spanning over 40 years in the human factor and effectiveness enhancement, as a natural trainer, facilitator & galvanizer of people, influencing team synergy and concerted action for results, with specialization in individual and team development and organization development.